Intelligent Puppy
Hi Dana,
She is a very intelligent puppy. She can sit, walk on a leash, go to the door to go outside and potty, (even in the rain) crate trained at night. No accidents! Not a barker. We are working on the down command and coming to her name. As you can tell, we are so happy with her!!!!
Thank you,
Kathy Perkins
Top Notch Quality
When I started looking for a yorkie puppy I called several numbers but Dana was the one who called back. She was so knowledgeable and helpful right from the start. And her puppies were the most consistent looking and had the baby face I was looking for. I brought Cricket home when she was 10 weeks old. After having her overnight I couldn't imagine life without her. She's been with us a month now and we are so in love with her. Not only is she gorgeous!! (we get compliments everywhere I take her) Shes got a wonderful little personality and is so smart. I am so glad that we purchased our puppy from NYT. The quality of the puppies is top notch and you get a breeder who really cares about the well being of the puppies.
Amanda Sands
Pup Update
Dana
I just wanted to give you an update on Knox. He did great on the car ride home, he basically just slept. Since we have been home he has eaten some, drank some, played and slept some more. It was really nice to meet you today and your dogs are totally adorable.
Shannon Day
Acclimated Well
Sadie playing in her new home. She is doing great!!!! She has eaten drank water and peed on her pee pad. Love her soooooooooo much!!!!!!​
Robin Goldschlager
Adapted Well
Hey, Dana!
I just wanted to update you on Duffi (formerly known to you as Stevie). She is perfect!! She is doing great, eating well, and loving her big sister Demi (also a yorkie). The two of them have adapted well, and while there are still those moments of learning to love each other unconditionally, they are snuggle buddies and friends already. They willingly eat side by side and do not snap at each other over toys or raw hides. Duffi went for her first vet check up today. I wanted to wait a week or so from when I first got her so she could adjust to us and her new home first without the stress of a vet trip. She did excellent at the vet. He was pleased to see she had been kept up to date on all of her shots. Everybody that worked there "oohed" and "aahhed" over her beautiful hair and coloring. She's scheduled to be spayed next week, and while it breaks my heart to think about her having surgery, I know it's best for her. I'll try to send you some photos of her and my other puppy as she grows. Thank you so much for selling her to us. She is already a huge part of our family and we love her so much. I know we'll be contacting you for more yorkies in the future. I hope your moving process is going well, and I'll talk to you soon.
MICHOLE BEVINS
Full of Energy
Hi Dana,
Just wanted to show you Sadie, she is so cute and so spoiled! Still just under 3 pounds and full of energy. She travels well and loves everybody.
Thank you for a beautiful puppy.
KATHY PERKINS
Light of my Life
Hi Dana
I can't believe it has been almost 2 years since Sadie came home to me. She has been the light of my life and I just love her so much. This picture was taken just a couple of weeks ago. Sadie joined me at a girlfriends bachelorette party which we net to a drunken pallet – which is a great place you go to paint and drink wine . Of course Sadie was a favorite as usual . Thank you again for bringing my precious little girl into my life.
Best regards
Robin
Already Spoiled
Todd
I have to tell you; this little fella is the best. He is so precious. Of course already spoiled. Took right to our bed and staked his place. Eating extremely well, he went to the vet on Saturday, they were very impressed. I can`t thank you enough for allowing us the honor of having Walter as a new member of our family.
Thanks,
Kathy, Rick and Walter Dalton
Love Him
Hi Todd
Just thought i would send an update on Tink. He is almost 5 lbs and adorable. Love him !
Thank you !!
Christa Ciccone
Chica's First Birthday.
We love our little Chica so much. She is the sweetest little dog we have ever been around. Thank you so much for taking such care to produce perfect little angels. There really isn't much else to say. She is perfect!
Jon Homer
Perfect little Angel
We purchased a puppy from Northshore about 6 months ago. Our little Chica is perfect! Healthy, beautiful, and full of spunk. From the moment we visited we could tell that the love and dedication to these little guys is first class.
Thanks again we love her!!!
Jon and Lisa Homer
Jon Homer
Suki and Dee Dee
Who would have dreamed we would get the two puppies we wanted!!!! It was a power higher than us. These two have been home 3 weeks now and they are a joy. Dr Fox our vet diagnosed them as "cute." They have learned to sit and sit pretty and we are working on down and roll over. They play for hours running around chairs in a figure 8. Everyone that sees them melts with their babydoll faces. Todd has been very accessible to answer questions. The entire process was great and I appreciated being able to visit the home and parents before getting on the waiting list. Thanks for everything. Chris and Becky
Chris Staigl
Hi, Todd
Just thought I'll give you an update on Riley! He is spoiled rotten, and I'm still in love with him after 3 years when I purchased him. He is full of energy, was very easy to potty train, and loves playing catch! Thank you so much for Riley! I shared a photo as well.
Love,
Shemika
Shemika Nicholson
Biscuit is perfect!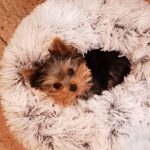 Todd, our little Biscuit is 4 months old and doing great. Our Standard Poodles are amazed by her spunk and playfulness. We have to remind the poodles of their size compared to her. Thank you so much for your help and patience. Biscuit is a wonderful addition to our family.
Debbie Cravens
Hazel Girl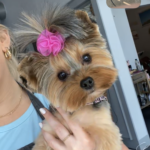 Hazel just completed her 3rd Sorority bid day for Kappa Delta! When we bought Hazel we had no idea of the joy that she would bring us. She is the only dog that I know that can FaceTime. They don't get any cuter or smarter than Hazel June. Thanks again for allowing us the make multiple visits to see the pups and spend hours picking her out.
Susan Hunt
Susan Hunt